Welcome to the 80/20 neighbourhood
Running a business is challenging and our vision is to grow a community of likeminded business owners who champion and support each other. We want to give you opportunities to connect, learn and have fun together.
If the pandemic has shown us one thing, it's that the business community really do go the extra mile to support each other. For example, our 2020 Masterclasses saw guest speakers giving up their time to share knowledge with you. And record numbers attended. We want to continue building on this.
Diary at the ready? You're going to need it.
Here's what's on at advantage80/20 over the next few months:
Based in London, Ugo is one of Keller Williams UK's origin agents. She joined in 2015 and has been passionately building her real estate business alongside KW ever since. She is without doubt one of it's most successful, loyal and dedicated agents and has recently achieved the esteemed position of being a "capped" agent at the KW Prime market centre.
Her business has been built on the buyer side of the property market, by offering exceptional service to UK and overseas clients, not only looking for a suitable property but buying a London lifestyle too. Ugo has made it her mission to know and promote many areas of this wonderful city and has been extremely successful featuring them on YouTube, and in her email and direct mail marketing. She has mastered the art of developing her brand – Onyx Property Team "Selling London Beautifully".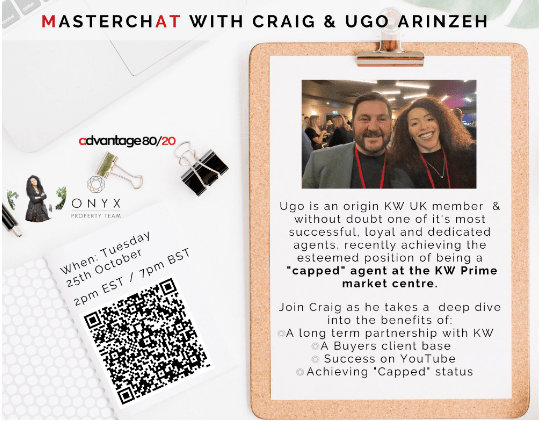 Price: Free to attend
When is it? 2pm EST / 7pm BST 1 hour
Next event: Tuesday 25th October
Guest Speaker: Craig chats to Ugo
Register here: Click Here to Register
Want to keep in touch about future events?
Subscribe below and we'll let you know what's on.