Welcome to the 80/20 neighbourhood
Running a business is challenging and our vision is to grow a community of likeminded business owners who champion and support each other. We want to give you opportunities to connect, learn and have fun together.
If the pandemic has shown us one thing, it's that the business community really do go the extra mile to support each other. For example, our 2020 Masterclasses saw guest speakers giving up their time to share knowledge with you. And record numbers attended. We want to continue building on this.
Diary at the ready? You're going to need it.
Here's what's on at advantage80/20 over the next few months:
Join us as Craig gets "up close and personal" with Global Real Estate Agent and Social Media Strategist Lucy J Parker. Zooming in from Dubai!
Having lived and worked all over the world, join us to find out WHY Lucy LOVES Dubai and is raving about the opportunities that Global Real Estate and in particular Dubai has to offer!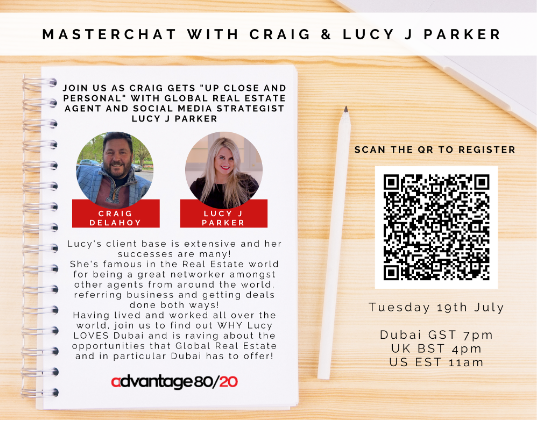 Price: Free to attend
When is it? 11 am EST / 4pm BST / 7pm Dubai GST. 1 hour
Next event: Tuesday 19 July 2022
Guest Speaker: Craig chats to Lucy J Parker
Register here: Click Here to Register
Want to keep in touch about future events?
Subscribe below and we'll let you know what's on.